The Post URL was successfully copied to your clipboard
Posted by Vayyar
October 28, 2020
Automotive Sensors: How 4D Imaging Radar Enhances Safety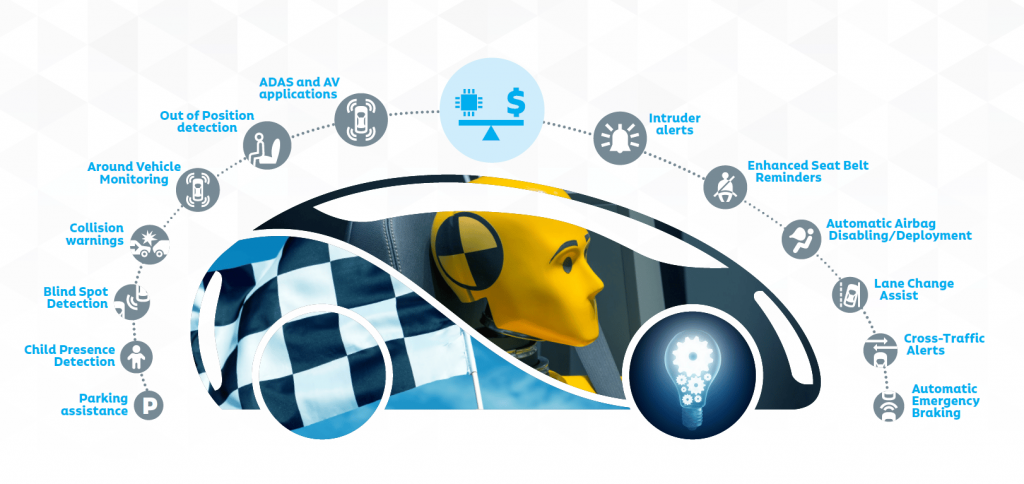 Although the development of automotive sensors has accelerated in recent years, there's still a long road until we reach fully autonomous cars. It's an incremental process, of course, with each new in-cabin or exterior sensor signifying a milestone on the journey towards truly smart vehicles.
However, the growing demand for intelligent cars, along with the need to maintain profitable margins, makes for a complicated balancing act between technology and affordability. In fact, the R&D costs alone for developing the required technology are rising by as much as a billion dollars a year.
It's also a cut-throat market, with competition on multiple fronts. Leading automakers go head to head in the differentiation, automation and efficiency domains, but the most important battleground is sensors in cars for safety, defined by stringent and ever-evolving legislation.
Compliance is king
Safety can be a demanding business. EU requirements mandate Seat Belt Reminders (SBR) in every position, while Child Presence Detection (CPD) sensors will be scored by Euro NCAP from 2023 to eliminate the risk of hot car incidents and fatalities.
Outside the cabin, Euro NCAP scores different types of Autonomous Emergency Braking (AEB), including:
front
rear
cross-traffic
Vulnerable Road Users (VRU)
junction-assist
Other Euro NCAP safety requirements will include Forward Collision Warning, Automatic Emergency Steering systems, Lane Change Assistance and Around Vehicle Monitoring, starting in 2023. This constantly shifting legislative landscape can be tricky to navigate.
Technological comparison of automotive sensors
As carmakers plan their roadmaps, they're faced with the intrinsic limitations of most automotive sensors, especially in terms of adhering to safety requirements. Of the various sensor technologies on the market, almost all are held back in one or more ways.
For example, cameras and LIDAR (Light Detection and Ranging) are effective methods of detecting objects and gauging distance, most commonly to avoid collisions. They offer high-resolution imaging and can track multiple targets, but since they depend on optics, they are limited by their inability to see through solid objects and can be hindered by adverse weather or lighting conditions. Dirt or mud on a lens can severely impact their functionality. Additionally, they are intrusive of privacy and notoriously expensive, putting them at risk of being superseded by more economical technologies.
Ultrasonic car sensors
Ultrasonic automotive sensors, whilst affordable, are a relatively low-tech, non-robust solution that cannot support imaging or track targets. 2D Radar, on the other hand, detects presence, direction, distance and speed and represents a robust, scalable solution that protects privacy.
However, since it is based on only a few transmitting antennas and a few receiving antennas, its restricted beam provides only limited coverage and low resolution, and cannot generate rich images. 2D radar has a limited field of view, is mostly focused around one axis, due to limited angular resolution, is insufficient in terms of differentiating between close targets.
Increasing demand for more advanced vehicle safety systems
As rising safety requirements continue to push industry-wide innovation, there is a growing need for versatile, reliable and scalable technology.
A core objective of the industry is to evolve to multifunctional sensing – more functions with fewer sensors – and due to the fundamental constraints of cameras, LIDAR, ultrasonic and 2D radar solutions, they are largely limited to performing just one function each.
Pedal to the metal: competitive advantages of 4D imaging radar
That's where 4D imaging radar comes in. It's the next generation of radar technology that equips vehicles with the necessary instincts required to make life-saving decisions on the road, while substantially reducing direct and indirect costs.
Unlike traditional radar solutions, 4D imaging radar leverages a Multiple Input Multiple Output (MiMo) antenna array for high-resolution mapping of its surroundings. It combines 3D imaging with Doppler analysis to create the additional dimension – velocity – over wide-field-of-view point cloud imaging.
Higher accuracy. More privacy. Lower cost
The technology incorporates all the benefits of the technologies mentioned above and leaves behind the drawbacks.
Resolution: The large MiMo antenna array enables accurate detection and tracking of multiple static and dynamic targets simultaneously. Inside the cabin, this technology detects occupants, classifies children and adults, monitors vital signs and detects posture and position.
Cost efficiency: Vayyar's 4D imaging radar-on-chip costs around the same as a 2D radar sensor solution, but with immense added value: richer data, higher accuracy and more functionality, while offering an optimal price-performance balance, ensuring true scalability, lowering overall development costs, reducing associated risks and shortening TTM.
Robustness and privacy: There are no optics involved, so this technology is robust in all lighting and weather conditions. 4D imaging radar does not require line of sight with occupants to reliably monitor them inside the cabin. For ADAS and around-vehicle safety applications, it delivers unwavering performance, even at night and when road conditions are most adverse. 4D imaging radar also ensures privacy by design, an increasingly important concern across the automotive industry.
Powering advanced vehicle safety systems
In other words, this technology is unique in that it ticks all the boxes. With the imaging radar market projected to increase at a 19.2% CAGR to reach USD 21.2 billion by 2027, 4D imaging radar is now eclipsing traditional radar as the optimal technology for advanced automotive safety systems.
Vayyar's solutions offer an integrated, cross-functional answer to many of the industry's key safety challenges. Addressing applications from ultra-Short Range Radar (uSRR) all the way to Mid-Range Radar (MRR), 4D imaging radar provides both in-cabin and around-vehicle sensing capabilities for a huge range of use cases, from CPD and enhanced SBR to Autonomous Vehicle (AV) and ADAS applications such as parking assistance, collision warnings and AEB.
For a growing number of global automakers, 4D imaging radar's unrivaled functionality in both the in-cabin and ADAS domains makes it the ideal solution for the road ahead.