Posted by Vayyar
August 9, 2021
ADAS for Motorcycles: Piaggio Selects Vayyar 4D Imaging Radar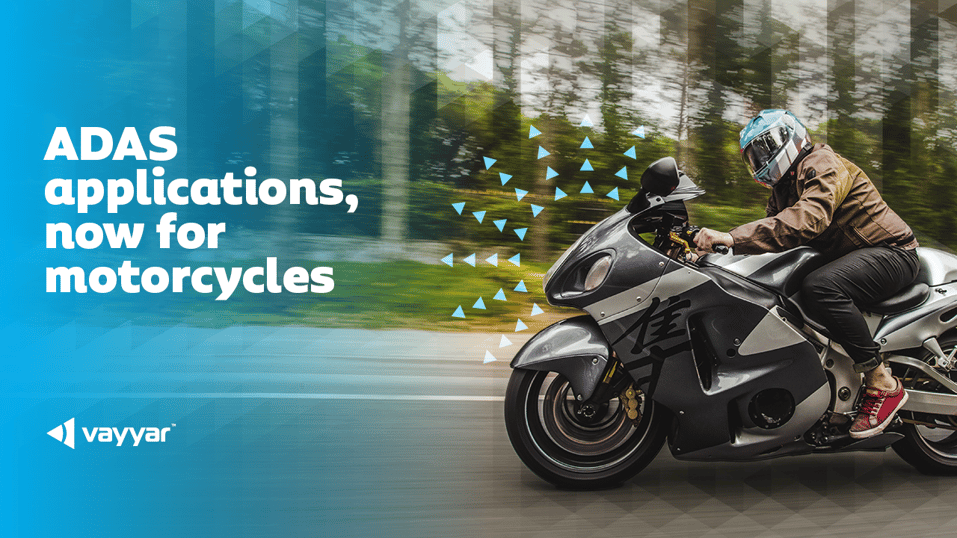 Vayyar, the global leader in 4D imaging radar, has been awarded a supply contract by Piaggio Fast Forward for its Radar-on-Chip (RoC) platform, which will serve as the foundation for Advanced Rider Assistance Systems (ARAS) in Piaggio Group's motorbikes. With an SOP 2022, this partnership brings the capabilities of Vayyar's leading-edge ADAS offering to the two and three-wheeler arena. Piaggio Fast Forward also selected Vayyar's 4D imaging radar platform for use in a range of consumer and enterprise robots, debuting in 2021.
The need for Advanced Rider Assistance Systems (ARAS) for two- and three-wheelers is pressing. With the global rider population growing rapidly, the past decade has witnessed a sharp increase of up to 21% in fatal collisions involving motorcycles and scooters, driving OEMs to pursue comprehensive, lifesaving solutions.
The world's first mass-market 4D imaging radar for ARAS, Vayyar's 76-81 GHz solution generates rich point cloud imaging with extraordinarily high natural resolution, enabled by an array of up to 46 antennas. With just two single-chip sensors, it provides 360° coverage of a motorbike's surroundings.
Vayyar's multi-range ARAS platform simultaneously enables all the applications required to transform motorbike safety: Blind Spot Detection, Lane Change Assist, Front and Rear Collision Warning, Adaptive Cruise Control, and Rider Brake Assist. It's also the basis for independent development of numerous future applications that will enable manufacturers like Piaggio to meet emerging safety standards.
With an unparalleled range of 140m and more, a single Vayyar chip detects and tracks multiple stationary and moving targets in all road conditions, ensuring the earliest possible alerts. Its ultra-wide 170deg field of view effortlessly encompasses both adjacent lanes, with no dead zones, detecting and tracking multiple targets. Unrivaled azimuth-elevation perception copes with the highest tilt angles and supports height obstacle detection, accurately reflecting the fast-changing road environment.
Vayyar's platform is compact enough to be housed on PCB designs as small as 75x65mm, engineered to address the unique challenges of motorcycle design. And with a highly affordable price point, it's economical for commercial deployment on motorbikes, which yield lower profit margins than automobiles.
"PFF is creating advanced technology products for robots and motorcycles that detect and measure objects in our surroundings to provide the information we need for mapping, object detection, and control, regardless of lighting, weather and other environmental factors. We have chosen to develop our sensing applications with Vayyar's 4D imaging radar technology. We are excited to work with such a professional, passionate team, to develop innovative new solutions that provide our customers with a better product experience." Greg Lynn, CEO at Piaggio Fast Forward.
"We're very excited to partner with PFF, who are at the forefront of sensor technology, both in terms of harmonization with rider experience on two- and three-wheeled products, as well as application in their innovative robots. Motorcycle riders are among the most vulnerable road users, and this is a big step forward in reducing their risk of collision," says Ilan Hayat, Director of Business Development at Vayyar Imaging. "Regardless of vehicle type, rider safety should not be compromised, and by partnering with PFF we are thrilled to deliver an automotive standard of safety to motorcycles", added Hayat.
The full-stack platform is a highly integrated system with all RF analog and digital components on one RFIC. Partners can also leverage full automotive-grade reference design and low-level radar algo that enables built-in signal processing, supporting floor removal, tilt angle subtraction and more.
Click here for the official press release.
The Post URL was successfully copied to your clipboard