Posted by Ian Podkamien
June 30, 2022
The New Occupant Protection Technology Making Vehicle Cabins Safer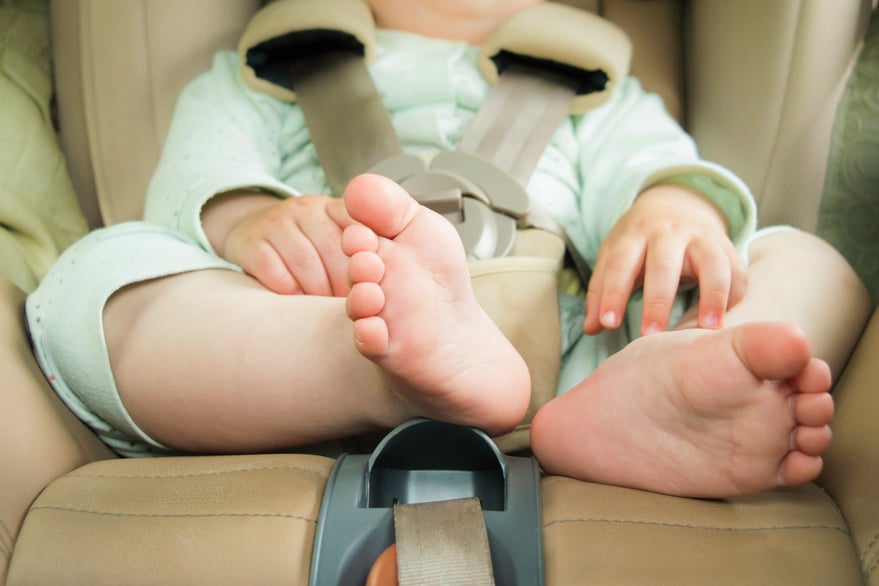 In-cabin monitoring is a core focus of automotive safety bodies and regulators. Many recent major changes to Euro NCAP standards concern in-car features, while NHTSA has announced its first occupant protection safety standards for vehicles with automated driving systems, covering everything from seatbelt reminders to advanced airbags.
This shift presents OEMs and suppliers with significant development and commercial challenges. Automakers must achieve compliance with new requirements for a wide range of in-cabin applications, steering clear of the pitfalls of increased complexity and higher costs, and future-proofing their systems to meet the demands of emerging regulations..
In-Cabin Regulation: A Weighty Question
The legacy approach to new in-cabin regulations focuses on additional single-function sensors to support each requirement. But with electronics expected to represent about 50% of vehicle cost by 2030, there's a clear need for a smarter, more streamlined strategy. Automakers, therefore, are leveraging the platform model for its scalability potential.
Ending Hot-Car Tragedies
Child Presence Detection (CPD) regulation remains high on the international agenda. To prevent the hot-car incidents that have killed hundreds of babies and young children, Euro NCAP will award points for CPD in new passenger vehicles from 2023. In the U.S., the passage of the Hot Cars Act has created the impetus for a new NHTSA CPD mandate.
To meet impending EU and U.S. CPD standards, automakers are carefully considering available occupant protection technologies. Traditional solutions rely on weight sensors, simple radars, smart keys or door sequencing – all susceptible to false alarms and mis-detects. Furthermore, vehicles with standard CPD technology wouldn't achieve a top Euro NCAP rating for CPD. Only solutions enabling detection and occupant classification can earn the full four points, and only those preventing false alarms triggered by adults while ensuring a positive user experience, will be fully effective.
A Call for Restraint
Seat Belt Reminders (SBR) are also under the microscope. Key markets including the EU and Japan already require rear bench SBR, which the U.S. Department of Transportation's FMVSS 208 also aims to mandate.
Standard solutions for rear bench SBR also depend on multiple weight sensors, which are notoriously prone to false alerts caused by heavy luggage, while increasing the car's cost.
Controlling Inflation
Smart airbags are another critical dimension of the evolving in-cabin ecosystem. In the U.S., recent amendments to FMVSS 208 demand advanced Airbag Suppression and low-risk deployment in the presence of a Child Restraint System (CRS).
In an accident, an airbag must always be deployed for an adult, but never for a child aged up to 18 months, posing a significant technological challenge.
When a passenger isn't properly seated, the accuracy of weight-based occupancy sensors can be affected, potentially leading to failed airbag deployment and serious injury.
In the case of airbag suppression for young children, the mass of the infant and their CRS must be considered. More sophisticated child seats can weigh up to 20 lbs. (9 kg), the same as a year-old baby, making a combined weight of 40 lbs. (18 kg) – equivalent to that of a 6-year-old child.
A single weight-based seat sensor may therefore be unable to differentiate between a baby or an older child and will fail to ensure airbag suppression as mandated by FMVSS 208. European regulation won't be far behind; in 2018, Euro NCAP introduced a standard assessment for automatic passenger airbag disabling systems.
More Sensors, Higher Cost, Greater Complexity
Additional weight-based sensors can enable baseline compliance with new CPD, SBR and airbag suppression regulations. But more single-function occupant protection sensors introduce greater complexity and expense.
Single-sensor solutions for CPD, SBR and airbag suppression are estimated to cost $60 per car. This represents over $900 million for the 15 million new cars and trucks sold in the U.S. in 2021, according to Wards Intelligence sales data.
As motorists become more aware of the latest in-cabin safety technologies, they'll demand vehicles with such advanced occupant protection systems.
Automakers have another option, one that reduces costs and complexity while delivering unprecedented safety across all in-cabin categories.
Ingenious In-Cabin Technology
High-resolution, single-chip 4D imaging radar technology not only negates the need for additional weight-based sensors but also enables automakers to replace legacy in-cabin systems.
Some variations of this leading-edge technology leverage a large antenna array, providing exceptionally high-resolution data to enable detection of people and objects and classification of adults and children with pinpoint accuracy.
A multifunctional 4D imaging radar platform provides a rich, multi-dimensional point cloud image that simultaneously addresses global in-cabin requirements applications for CPD, rear bench SBR and smart airbags, while supporting scalability to future features including Intruder Alerts, Gesture Control and Occupant Position Monitoring. OEMs can reduce sensor count and achieve significant savings while earning the highest possible safety ratings.
As automakers accelerate their efforts to deliver the in-cabin applications that regulators demand, legacy methods are already disappearing in the rear-view mirror.
As published in WardsAuto. Click here to access the original article.
The Post URL was successfully copied to your clipboard