Posted by Vayyar
January 19, 2021
Vayyar Scores Hat-Trick of CES Innovation Awards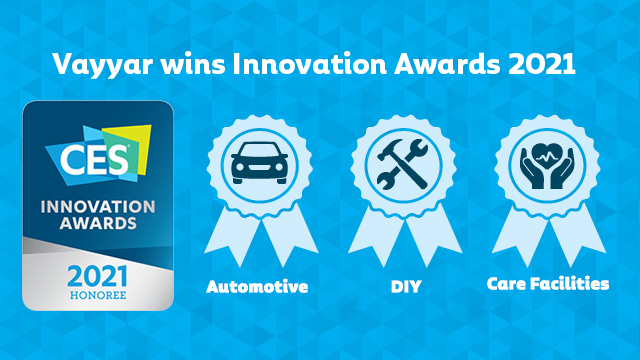 Vayyar Imaging has received three CES® 2021 Innovation Awards for its best-in-class 4D imaging radar technology which is revolutionizing safety in multiple industries. The announcement was made ahead of the first-ever all-digital CES 2021, the world's most prestigious technology event. 
The company was honored in the Vehicle Intelligence and Transportation category for its automotive platform, in the Health & Wellness category for the Vayyar Home fall detection and monitored well-being solution and in the Mobile Devices & Accessories category for Walabot DIY 2, a unique visual wall scanner.
Protecting every life on the road
With road traffic accidents a leading cause of death and injury worldwide, the automotive industry is set to benefit from the leading-edge safety delivered by Vayyar's multifunctional sensors. The single-chip platform provides lifesaving solutions for both in-car and ADAS.
With rapidly rising safety standards, complexity and costs for automakers, Vayyar's affordable, automotive-grade Radar-on-Chip technology enables all manufacturers and models to attain outstanding safety ratings with far fewer sensors and ECUs, as well as less wiring and associated costs. Incredibly precise and reliable, the sensors work regardless of line of sight, bad lighting or harsh weather conditions.
Vayyar's flagship 'combo' of Child Presence Detection and two-row Seat Belt Reminders is redefining in-cabin safety. Automakers can also leverage the high-resolution point cloud data collected by the platform to independently develop a range of advanced safety applications including intruder detection, optimised airbag deployment and eCall, with the ability to add additional features remotely via over-the-air updates.
Outside the cabin, two to four Vayyar sensors can replace up to 20 other sensors, providing unwavering robustness and resolution for a range of uSRR, SRR and MRR applications. The platform's high resolution is ideally suited to simultaneously supporting complex ADAS features, from advanced parking assistance to different types of Autonomous Emergency Braking.
Safeguarding seniors
The company is also enabling older adults and their loved ones to enjoy peace of mind and better health outcomes thanks to Vayyar Home, a pioneering touchless fall detection and monitored well-being solution. Built around the same RFIC technology, it provides real-time fall detection without requiring any user input. This overcomes the limitations of traditional fall alert systems; after suffering a fall, seniors are often unable to push a button or pull a cord, resulting in "long lies" that can have severe health implications.
Vayyar Home also passively collects rich data on senior living residents' activity, such as presence in bedroom, bathroom or living room, as well as bed presence and bed exits, which senior living and care home operators and integrators can leverage to provide enhanced care while ensuring user privacy at all times.
Superman vision for DIYers
Vayyar was also honored for Walabot DIY 2, the next generation of its visual stud finder which, for the first time, will soon be available for pairing with both iOS & Android smartphones. The device gives super vision to everyone who wants to see into their walls and renovate like a pro.
It helps avoid DIY disasters such as drilling into a water pipe or electrical wiring, instantly showing the locations of stud centers and delivering a level of precision and simplicity that traditional stud finders simply cannot match.
A unique vision
"We are thrilled to win three CES Innovation Awards, demonstrating the quality and scope of our Radar-on-Chip technology," said Raviv Melamed, Vayyar CEO. "Being recognized for our work in such a diverse range of sectors drives us onward to provide the next generation of sensing technology that is miniature, affordable and versatile enough to impact everyone's lives, enabling a safer world."
The CES Innovation Awards program, owned and produced by the Consumer Technology Association (CTA)®, is an annual competition honoring outstanding design and engineering in consumer technology products across 28 product categories.
An elite panel of industry expert judges, including members of the media, designers, engineers and more, reviewed submissions based on innovation, engineering and functionality, aesthetics and design. Based on these criteria, Vayyar's cutting-edge solutions were found to offer exceptional performance and ease of use.
The CES 2021 Innovation Awards Honorees, including product descriptions and photos, can be found at CES.tech/innovation.
The Post URL was successfully copied to your clipboard