Posted by Vayyar
February 16, 2022
Vayyar Releases International Automotive In-cabin Safety Survey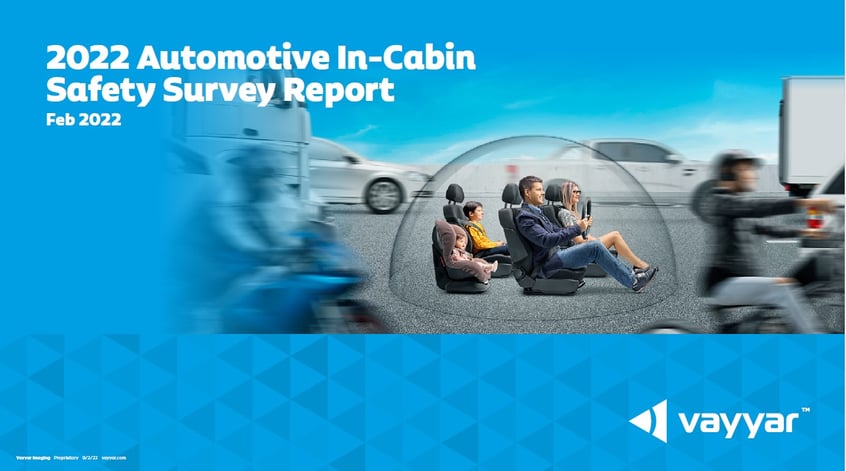 Today Vayyar published the findings of its international consumer survey on automotive in-cabin safety
Report highlights evolving perspectives on in-cabin safety and its impact on vehicle buying behaviour, to help OEMs and Tier 1 suppliers formulate their innovation strategies
Key findings indicate price and safety are the top factors affecting purchase decisions
An overwhelming majority of consumers recognise that in-cabin safety lags far behind driver assist technology
Consumers also feel that Child Presence Detection technology should come standard in vehicles and that this significantly affects purchasing decisions
The full report and additional documents are available to download here.
TEL AVIV, Israel, 16 February 2022 – Vayyar, the global leader in 4D imaging radar, today released the findings of its comprehensive automotive in-cabin safety survey, exploring motorists' opinions of key features and how they impact buying behavior.
The survey results demonstrate that consumer perspectives around in-car safety features have shifted from "nice to have," to must-have. Across all geos surveyed, drivers no longer see passenger safety as a collection of discrete features, but rather as a holistic system designed to provide the utmost protection.
Vayyar develops next-generation platforms for in-cabin safety and ADAS (Advanced Driving Assistance Systems) and commissioned the survey to gauge consumer sentiment around topics including occupant monitoring, privacy, driver experience, child protection, and airbag injuries, as well as the cutting-edge applications that address them.
Participants, hailing from Germany, Japan, South Korea, the UK, and the U.S., varied by age, number of kids/grandkids and income levels. When asked about their top considerations when buying or leasing a car, they cited safety as a top three factor across the board, regardless of household income.
In all geos surveyed, almost two thirds of respondents stated that they would pay extra for enhanced in-cabin safety features, rising to 70% for those with young children or grandchildren. Meanwhile, 84% of respondents feel that in-cabin safety lags far behind ADAS, despite affordable technologies being available for passenger protection.
Respondents in every age group also noted that they would be more likely to purchase a vehicle with improved in-cabin safety features such as smart airbags, Child Presence Detection, and enhanced Seat Belt Reminders. A clear majority stated that Child Presence Detection systems should come as standard in new cars to prevent 'hot car' incidents, with many saying they would be more likely to consider a car that comes with this lifesaving feature.
-ENDS-
Notes to Editor
The survey, conducted by Global Surveyz, canvassed the opinions of 2,500 individuals divided equally between the U.S., UK, Japan, Germany, and South Korea, over a two-week period between December 2021 and January 2022. These territories were selected to ensure geographic balance and because they are widely seen as technological pacesetters for the global automotive industry.
About Vayyar Imaging
Vayyar's automotive-grade 4D imaging radar platform creates holistic safety solutions for in-cabin, ADAS and motorcycle safety. Powered by a single radar-on-chip, it delivers exceptional resolution across an ultra-wide field of view, enabling it to replace multiple existing single-function sensors. The platform provides comprehensive detection in and around the vehicle, simultaneously tracking multiple static and dynamic targets. Inside the cabin, the 60 GHz configuration detects the presence, position, and size of each occupant, classifying children and adults. This enables Child Presence Detection, enhanced Seat Belt Reminders, optimised airbag deployment, out-of-position alerts, intruder detection and more. Outside the car (or motorcycle), the 79 GHz system supports most SRR, MRR and LRR applications including parking assistance, Autonomous Emergency Braking, Lane Change Assist, Blind Spot Detection, Cross Traffic Alerts, Adaptive Cruise Control and more, with an effective range from 20cm to 300m. Vayyar technology is multifunctional, affordable, and available for mass production. The radar-based platform is robust in all road conditions, while protecting user privacy at all times.
Media Contact:
Sophie Almeida [email protected] / +0044 7826 034887
Mike Gale [email protected] / +0044 7876 563044
The Post URL was successfully copied to your clipboard