Posted by Vayyar
November 9, 2020
Long Lie After Falls: Outcomes and Prevention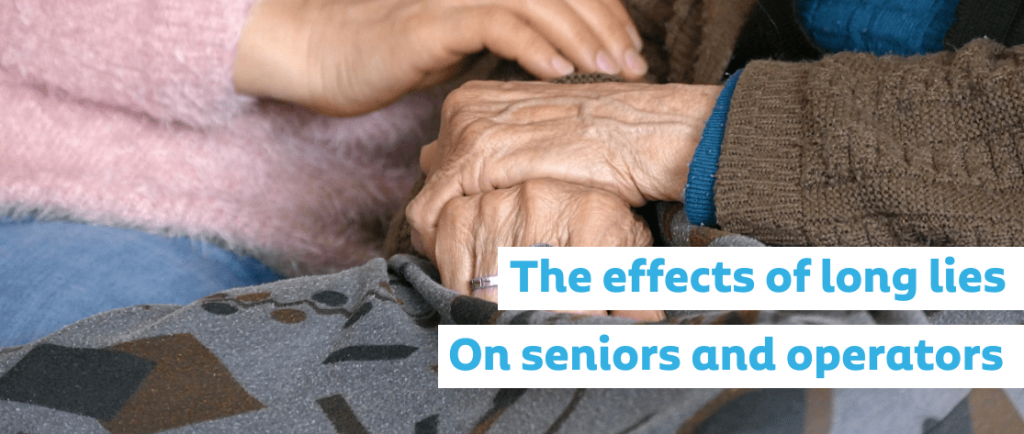 A long lie after a fall can kill. And delayed response to falls can also have a severe impact on the profit margins of senior living operators which are struggling to ensure business resilience in the current climate.
A quarter of seniors over 65 who suffer hip fractures from falls will die within a year, a mortality rate up to four times higher than the general population.
Equally concerning is that in 20% of cases, seniors end up lying on the floor for over an hour, with half of them passing away within six months as a result, even without direct injury from the fall.
The effect of long lie times on senior living operators' profitability is three-fold. On top of the loss of business caused by reputational damage there are the issues of significantly lower Resident Lifetime Value (RLTV) and legal liability.
Long lies impact longevity
For operators, the connection between length of stay and occupancy rates is a direct one. With an average length of stay of just 22 months and overall occupancy rates still near all-time lows, they need to focus on filling more rooms for longer.
Long lie times cause more hospitalizations due to the delay in providing medical attention, causing more severe injuries. In many cases, complications resulting from long lie times after a fall mean the resident will subsequently be forced to move to a nursing home or rely on full-time care to receive the care they need, a leading cause of churn.
Even if they stay at the facility, over half will likely fall again within a year due to impairment caused by the initial episode, further impacting their longevity.
The bottom line is that failure to provide immediate assistance after a fall is a lose-lose. But if operators can eliminate long lies after falls, they will be able to increase both length of stay and occupancy, boosting profitability.
Long lies and liability
Long lie times can also be grounds for litigation, a major concern for senior facilities. Anecdotal evidence suggests that a fifth of seniors who suffer falls at senior living facilities sue.
There have been many cases where facilities paid out millions of dollars due to inadequate monitoring of residents.
In 2018, over 60% of fall-related claims against elderly care facilities were based on substandard monitoring, resulting in payouts averaging over $198,000 and driving up liability insurance premiums.
As stated in the CNA Aging Services 2018 Claim Report, "Becoming aware of current risk exposures is the necessary first step in reducing potential liabilities."
It's clear that keeping residents safe through more effective monitoring should be paramount for everyone.
Challenges of addressing long lie falls
The problem of long lie times is exacerbated by the fact that many residents do not use their PERS devices. According to one study, 57% have not worn their device, with 60% saying they forgot and a further 38% failing to do so because they feel they don't need it. This demonstrates that automated solutions are urgently needed across the senior care sector.
How can operators prevent long lie times after a fall?
Preventing long lie times is now possible thanks to Vayyar Care. Based on advanced radar technology, this device, which is discreetly placed on the wall of a resident's room, instantly detects falls and alerts staff members.
The resident does not have to take any action whatsoever.
That's why a rapidly growing number of senior living providers are now deploying these low-cost sensors to bring down lie times, safeguarding their residents and protecting their profit margins.
Find out more with a demo showing how you can prevent long lie times using Vayyar Care.
The Post URL was successfully copied to your clipboard
Read more on
#elderly care