The Post URL was successfully copied to your clipboard
Posted by Marc McGrann
October 13, 2020
MAMA 2020 Conference: A Call to Action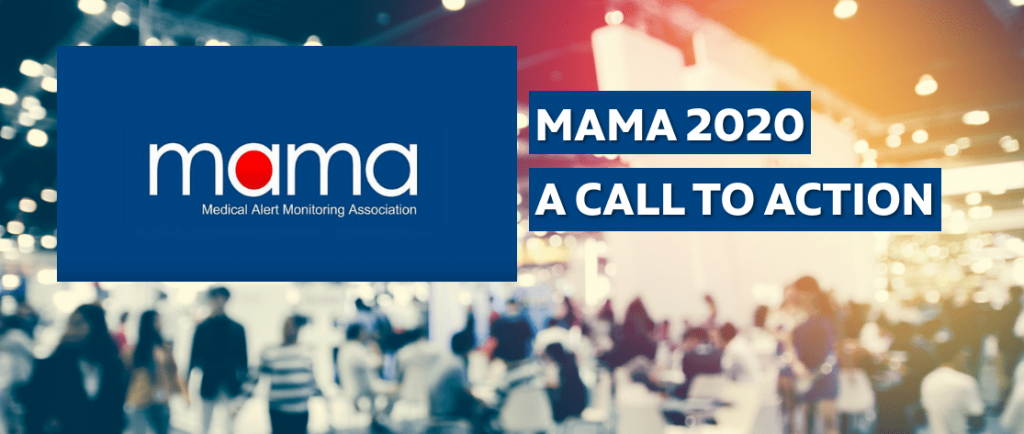 This year's MAMA conference, although held online, was just as thought-provoking as in past years.
Looking back on my experience during MAMA 2020, one of the things that stands out is how the industry is slowly evolving, especially with the advent of new investments, both financial and intellectual.
New Faces in the Market
I was impressed by the number of business consolidations and acquisitions taking place in the industry, a trend that may drive technological innovation in the PERS market at a faster rate than ever before.
For instance, Becklar, which owns both Freeus and AvantGuard, held a session with representatives from BV Investment Partners, which recently invested heavily in the company. What struck me from all of this is the resulting rapid influx of new people, contacts and thought processes into the market, strengthening the PERS platform even further.
Telehealth: An Emerging Platform
One of the emerging technologies that took center stage at the conference was telehealth.
As I anticipated going into the event, there were many attendees discussing telehealth and the efforts needed to move beyond just falls and put monitored health at the forefront of the conversation with customers.
I was also excited to see both manufacturers and distributors incorporating peripheral health devices such as Bluetooth, smart scales and blood pressure monitoring devices into their product mix. This shows a significant shift in the way PERS dealers and distributors are thinking of their roles in the elderly care industry.
Mobile PERS: The Industry Standard
While I was impressed by the potential of telehealth's future, I was a bit disappointed to see a lack of innovation in the world of PERS devices.
To be sure, the emergency button still has its place in the market and will likely remain relevant for some customers for a good while yet. However, current advances have typically revolved around bland upgrades to existing products or connectivity-related improvements, with companies trying to utilize different networks and providers.
The shift to 4G is a welcome one but the consumer world has been discussing the 5G revolution for years. And the PERS distributors adding a Verizon mobile network option, while necessary, isn't a groundbreaking move.
What the sector is lacking are big, dynamic advances. From my discussions with distributors and senior living operators alike, it's clear that the elderly care market is ready for a step change, a disruptive upheaval of the status quo.
A Call to Change: Churn statistics
Just as in years past, the Edmonds Group provided straightforward and intriguing insights into the industry, especially for PERS adoption, churn and usage trends.
Their first party research and analysis revealed the following:
The PERS market is growing with a greater percentage of seniors adopting PERS devices and medical alarm technologies, a fantastic trend that has continued for years now.
However, churn rates are still an issue. The increase in churn is consistent for customers who use private funding or public funding such as State-sponsored healthcare options.
Most seniors who own a PERS device are paying for it directly; it is not their family members who buy the device, as was often assumed in the past.
More specifically, the numbers presented regarding reasons for customer churn really jumped out at me. 15% of Direct-to-Consumer customers and 19% of customers from the Healthcare market canceled their subscription without even opening the box. A significant number of our customers are telling us that they are willing to pay for the concept, but don't like the solution. That's three times more than the number of people who said that they couldn't afford the system in the DTC space and 19 times the number of those in the healthcare space.
And the impact is two-fold: not only the loss of existing customers, but also the missed opportunities of potential customers who never engage. It's clear that money is being left on the table due to a lack of ingenuity.
Conclusion
What we need to consider then is that the industry needs to offer something new and innovative: something besides the traditional systems that are currently available.
We need to ask ourselves what we can offer that is different, that is not just a variation on a theme, but rather something that is a new option on the menu. What can we do to attract new customers and boost retention efforts?
These are some of the questions I discuss — and answer — in my presentation at MAMA 2020's virtual event. If you hadn't had the chance to watch the session live, you can catch the recording here: https://info.vayyar.com/mama-2020-vayyar-recording

Read more on
#elderly care