< Back
World ADAS & AD Conference
August 6-7, 2020 - Virtual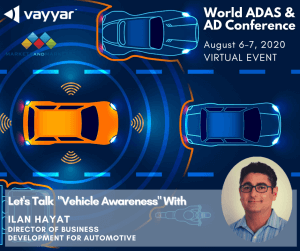 Join us at the World ADAS & AD Conference August 6-7! Our Director of Business Development for Automotivewill be leading a discussion on Vehicle Awareness in the age of autonomy. Register to schedule a meeting with Vayyar's automotive team and to reserve your spot in the discussion >> http://ow.ly/rrFj50APgsm
Vayyar delivers a high-performance answer to ADAS applications, offering a complete uSRR-SRR solution on a single chip.
The Vayyar automotive imaging radar sensor detects and tracks multiple targets, with a Zero Minimum Distance (ZMD) and no dead zones, providing full detection of the vehicle's surroundings.
Leveraging sophisticated radar-on-chip (RoC) technology, Vayyar offers a performance-optimized RF platform complete with analog and digital components, and a large MIMO array for maximum resolution. Its ultra-wide horizontal and vertical FoV enables height obstacle detection and eliminates the need for many sensors. The Vayyar sensor yields substantial cost savings and a high ROI.
Here are some of the applications it's used for:
Collision Warnings (FCW/RCW)
Valet Parking (parking assistance)
Blind Spot Detection (BSD)
Lane Change Assist (LCA)
Automatic Emergency Braking (r/fAEB)
Cross Traffic Alerts (r/fCTA)
Around Vehicle Monitoring (AVM)
Time & Location
August 6-7, 2020
This will be a virtual event. Schedule a meeting with Vayyar in the online portal.
About the Event
Define the future of automotive trade by making the right powertrain technology choice & eliminate the failure of the supply chain at MarketsandMarkets World ADAS & AD Conference. An excellent platform for experts from the automotive industry, academia, and government institutions discussing the innovations, challenges, and future aspects of innovative technologies in automotive.