< Back
Webinar: Unparalleled Safety with Less Complexity and Costs
March 24 - Virtual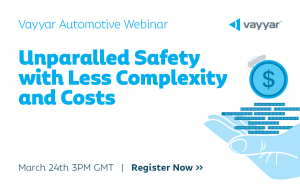 The automotive industry is facing the challenge of rising safety standards and the growing complexity and cost that comes with them.
Although safety improvements are credited with saving hundreds of thousands of lives, they traditionally require the deployment of numerous single-function sensors, an approach that's economically unsustainable and demands an extensive amount of hardware, software, wiring, ECUs and power consumption. With up to 200 sensors per car, electronics make up over 35% of overall vehicle cost, a percentage expected to rise to 50% by 2030.
Join Vayyar's Head of Automotive, Ian Podkamien, in exploring the paradigm shift that's giving automakers the opportunity to reassess the industry's legacy approach, while enhancing safety and yielding significant cost savings.
It's all about multifunctionality on a single-chip platform, a trailblazing approach that's making high-end safety affordable and available for all vehicle models, while reducing the risks surrounding SOP programs.
Key takeaways:
· How a single Vayyar RFIC – priced the same as a single-function radar – reduces the number of sensors needed for each application and supports multiple applications simultaneously.
· How 4D imaging radar provides robust, leading-edge in-cabin safety with just one sensor covering the entire cabin.
· How Vayyar's platform offers automakers the flexibility to future applications.
We'll also discuss the advanced safety applications supported by the platform, how it maximizes Euro NCAP safety points for every vehicle and how much automakers can save over the lifetime of a high-volume vehicle.