< Back
Webinar: Higher Safety Ratings With Lower Costs
January 13th - Virtual
Converged technology like 4D imaging radar helps achieve best-in-class automotive safety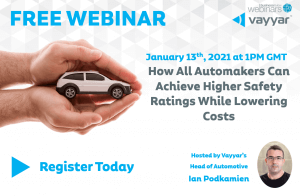 Rising automotive safety standards are driving up complexity and costs. With up to 200 sensors per car, electronics make up over 35% of overall vehicle cost, a percentage expected to increase to 50% by 2030.
But safety and cost-efficiency don't have to be mutually exclusive. 4D imaging radar by Vayyar delivers high-end safety that meets the demands of both luxury cars and economy models, including 25% of Euro NCAP points required for a 5-star rating from 2023.
It's all about multifunctionality: fewer sensors per function, a single sensor supporting multiple applications, and a rock-solid platform that enables automakers to develop new safety features after deployments – a streamlined sensor ecosystem that protects more lives as well as hundreds of dollars per vehicle.
Make sure your organization is fully prepared to benefit from the new gold standard in automotive sensor tech.
Reserve your webinar spot now.
January 13th
January 13th