< Back
Under the Hood of the Leading In-Cabin Safety Solution
July 6th, 2021 - Virtual Event
A visual walkthrough of 4D imaging radar
The vehicle cabin is a key focus of the automotive safety roadmap. From drivers to their most vulnerable passengers, road users depend on in-cabin safety features to protect them from the dangers of the road. A new generation of sensor technology is enabling automakers to enhance interior safety while reducing complexity and costs.
Join this compelling webinar for a behind-the-scenes tour of the industry's only globally regulated, 4D imaging radar that covers a full cabin with a single chip. We'll have a look at the advanced technology behind the sensor's unmatched performance, the significant cost savings it yields and the features that enable it to earn a full 7.5 EU NCAP points for any vehicle, while improving user experience.
You'll see the technology in action with comprehensive application demos inside the cabin. We'll explore Child Presence Detection (CPD) and discuss why point cloud-based detection and classification are critical capabilities engineered to maximize safety scores, while minimizing false alarms. We'll cover enhanced Seat Belt Reminders (SBR) and explore the significance of a wide field of view, the ability to differentiate between passengers and a range of three rows, and how these elements enable an industry-first CPD + SBR combo. This session will also provide a deep dive into numerous other safety applications enabled by the 4D imaging radar sensor's rich occupant data.
We'll demonstrate why Vayyar's multifunctionality on a single chip platform is a game-changer for automotive safety. As you draw up your in-cabin roadmap, this is the webinar to attend if you want to reap the rewards of an integrated sensor platform that fires on all cylinders.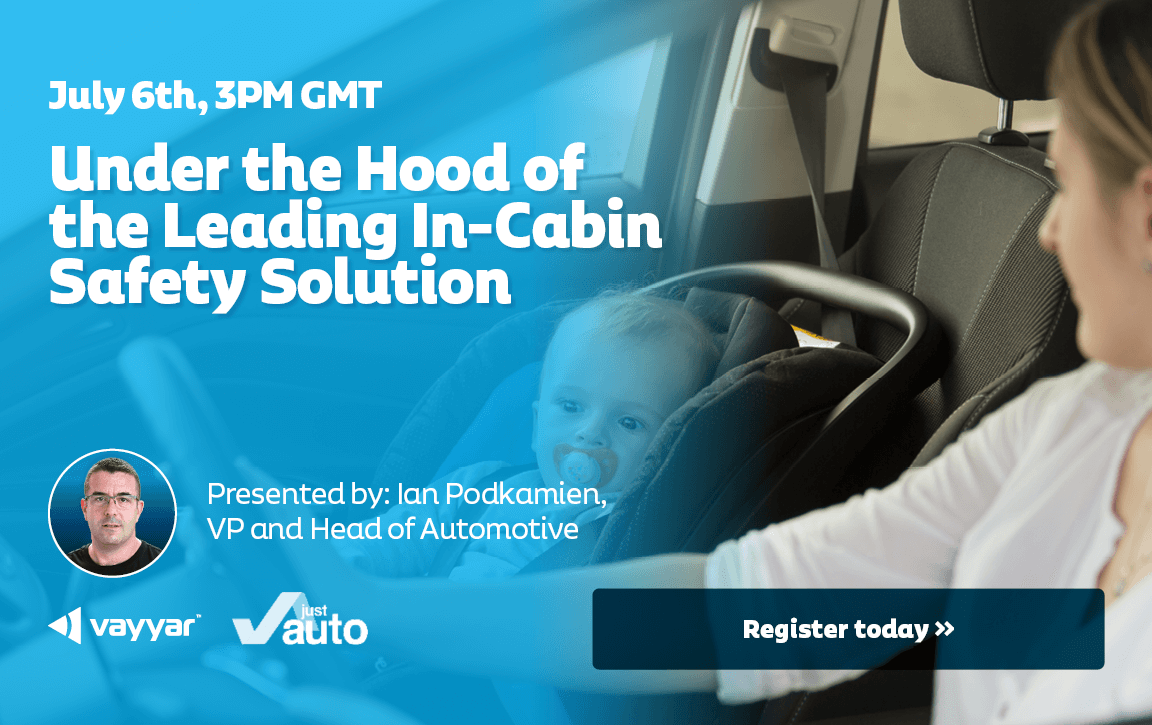 Time & Location
July 6th, 2021
About Vayyar's Automotive Solution
Vayyar's intelligent sensors create holistic safety opportunities for in-cabin and ADAS, using automotive-grade 4D imaging radar technology. The 'fourth dimension' refers to the ability to capture movement, time and speed. At the core of these sensors is a high-performance Radar-on-Chip that supports up to 48 transceivers for exceptional resolution. With an ultra-wide field of view, Vayyar's 60 GHz and 79 GHz single-chip radar modules cover large areas to reduce the number of sensors in vehicles. They provide comprehensive detection in and around the vehicle, while simultaneously tracking multiple targets and objects. Vayyar technology is multifunctional, affordable and available for mass production. The radar-based platform is robust in all road conditions, while protecting user privacy. Vayyar plans to continue developing the next generation of sensor technology that is miniature, affordable and versatile enough to enable a safer world.