< Back
Reuters Car of the Future 2021
June 14-15th, 2021 - Virtual Event
Changing emission standards, environmental and public concerns, increased road accidents and new technology are driving the biggest change automotive has ever seen. Delivering the sustainable, 'consumer loved' and actively safe vehicle takes time and money, but you only have so long before another competitor wins market share.
At this year's Reuters Events: Car of the Future 2021, Automotive C-suite leaders will share their strategies to transform their business through technology, transitioning to a fully electric and zero fatalities autonomous future.
This OEM exclusive meeting provides a platform to address the most pressing challenges that the industry is facing to deliver safer and more sustainable cars. Join us for 2 day live discussions to share insights, find answers and connect with 2,000+ like-minded senior executives.
Join Vayyar's VP and Head of Automotive, Ian Podkamien, on the panel: Driving Evolution on ADAS- Taking Safety to the Next Level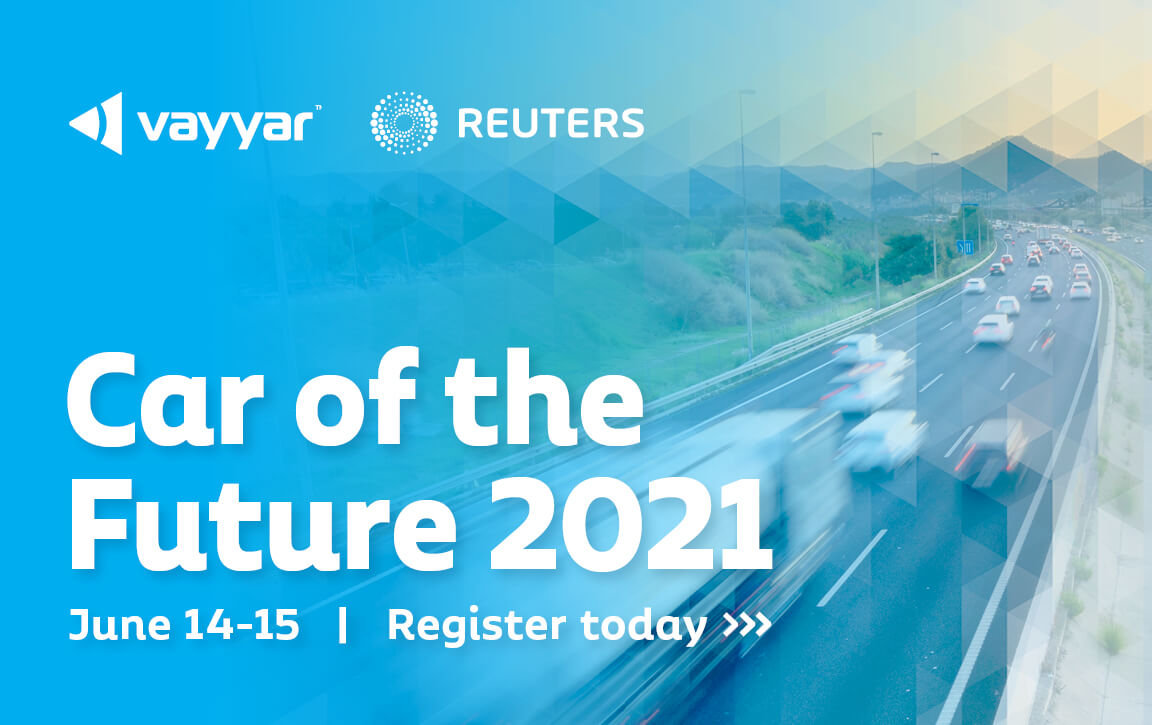 Time & Location
June 14-15th, 2021
About Vayyar's Automotive Solution
Vayyar's intelligent sensors create holistic safety opportunities for in-cabin and ADAS, using automotive-grade 4D imaging radar technology. The 'fourth dimension' refers to the ability to capture movement, time and speed. At the core of these sensors is a high-performance Radar-on-Chip that supports up to 48 transceivers for exceptional resolution. With an ultra-wide field of view, Vayyar's 60 GHz and 79 GHz single-chip radar modules cover large areas to reduce the number of sensors in vehicles. They provide comprehensive detection in and around the vehicle, while simultaneously tracking multiple targets and objects. Vayyar technology is multifunctional, affordable and available for mass production. The radar-based platform is robust in all road conditions, while protecting user privacy. Vayyar plans to continue developing the next generation of sensor technology that is miniature, affordable and versatile enough to enable a safer world.