< Back
LeadingAge Florida
July 19-21, 2022 - Hilton Orlando Bonnet Creek, Orlando, Florida
Momentum
Vayyar Care will be at the 59th Annual LeadingAge Florida Convention and Exposition, where thought leaders and innovators from across the elderly care sector will meet to share insights, network, and explore the technologies that are shaping the future of senior living.
Our Director of Business Development North America, Marc McGrann, will be showcasing Vayyar Care's unique features, explaining how 4D imaging radar delivers instant fall detection and data insights that enable personalized, proactive care. It's the key to enhancing protection for seniors, easing the burden on caregivers, and improving operational efficiency for communities of all types.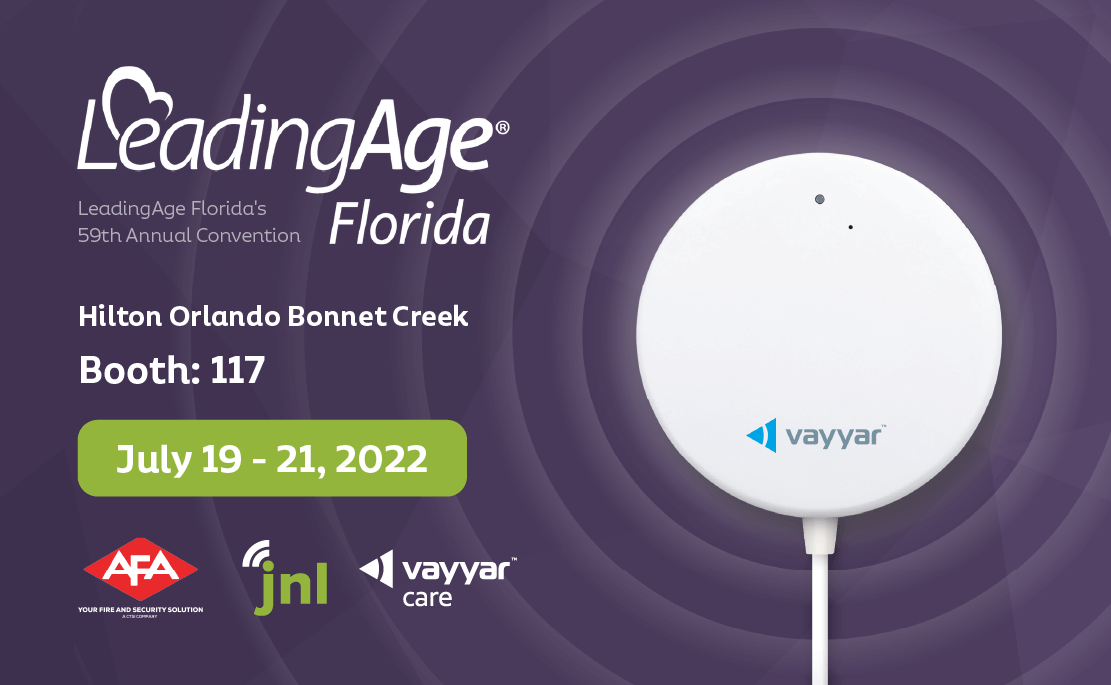 Time & Location
July 19-21, 2022
14100 Bonnet Creek Resort Ln, Orlando, FL 32821, United States
About the Event
Dedicated to expanding possibilities for aging, LeadingAge Florida, part of the national LeadingAge association of 5,000 not for profit organizations, is committed to assisting its members achieve excellence as providers, businesses, and employers. The corporation's Annual Convention and Exposition provides a wide variety of networking opportunities with peers whose membership communities include continuing care retirement communities (CCRCS), retirement housing and HUD financed housing for the elderly, nursing homes, assisted living facilities, business affiliates, non-profit organizations, individuals, and multi-facility corporate offices.
LeadingAge Florida is comprised of more than 250 mission-driven communities, representing more than 500 facilities and more than 140 business associates. More than 80,000 seniors live in LeadingAge Florida member communities. Thousands more are served through home health services, adult day care centers, and other community outreach programs offered by members. LeadingAge Florida members are economic engines, providing an estimated 25,000 jobs statewide. They are sponsored primarily by community-based non-profit civic, religious, fraternal, and other mission-driven organizations.