< Back
Leading Age 2021
Oct. 24-27th, 2021 - Atlanta, Georgia
The Vayyar Home team is pleased to be exhibiting at the US premier event for senior care and assisted living. Join us for a live demo at booth #3620
Marc McGrann and David Hamel, our US sales directors, will showcase our unique touchless elderly care solution that provides both real-time fall detection and rich data that supports monitored wellbeing.
Vayyar Home is a unique touchless solution that protects seniors without cameras, buttons, cords, or wearables. Powered by leading-edge 4D imaging radar, the sensor operates in all lighting conditions, gathering rich data that provides round-the-clock visibility while respecting privacy.
The system integrates with senior living communities' existing care platforms to support a wide range of applications, including real-time automatic fall detection, respiration monitoring, behavioral insights and imminent bed exit alerts that enable true fall prevention.
Marc and David will be available for meetings throughout the event. Book your slot with them now.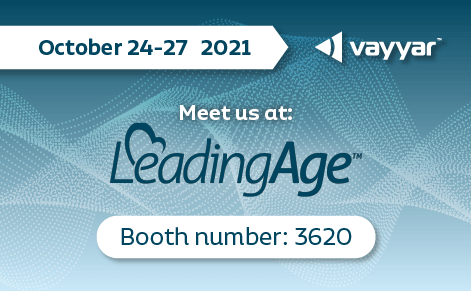 Time & Location
Oct. 24-27th, 2021
About the Event
It's time to reconnect at the 2021 LeadingAge Annual Meeting + EXPO. Our collective power is made greater through sharing, learning, and collaboration – so join us for the conversations and connections that will help us navigate our field, forever transformed by the last year. We'll get ideas and answers from the experts and from each other. We'll find partners to help us provide the services our communities need now. We'll discover new tools and practices to help us perform better than ever before. We're building momentum toward making America a better place to grow old. This is where progress begins – and you need to be a part of it.