< Back
EcoMotion 2021
May 18-20th, 2021 - Virtual Event
As automakers focus on creating the most intelligent vehicles possible, they face three closely related core issues: compliance, complexity and cost.
Vayyar's solutions are revolutionizing automotive safety, enabling OEMs and Tier 1s to reassess legacy solutions.
'Multifunctionality on a single-chip platform', a trailblazing approach, features multiple distinct aspects designed to reduce complexity and cost while enhancing safety.
The platform, priced the same as a single-function radar, reduces the number of sensors needed for each safety application and supports multiple applications simultaneously.
In the cabin, just one sensor covers up to three seating rows. It offers an application-ready Child Presence Detection + enhanced Seat Belt Reminders combo. In addition, the platform supports optimized airbag deployment, intruder detection, occupant monitoring and the flexibility to scale to future applications.
Outside the vehicle, 2-4 Vayyar sensors can replace more than 10 traditional ADAS sensors, providing coverage across uSRR, SRR, MRR and LRR. The platform supports advanced parking assistance, blind spot detection, autonomous emergency braking, collision warning, adaptive cruise control, cross-traffic alerts, lane-change assist, and beyond.
Vayyar's solutions are AEC-Q100 qualified, ASIL-B compliant, and have been fully evaluated over thousands of test cases to ensure industry-leading reliability rates and production readiness.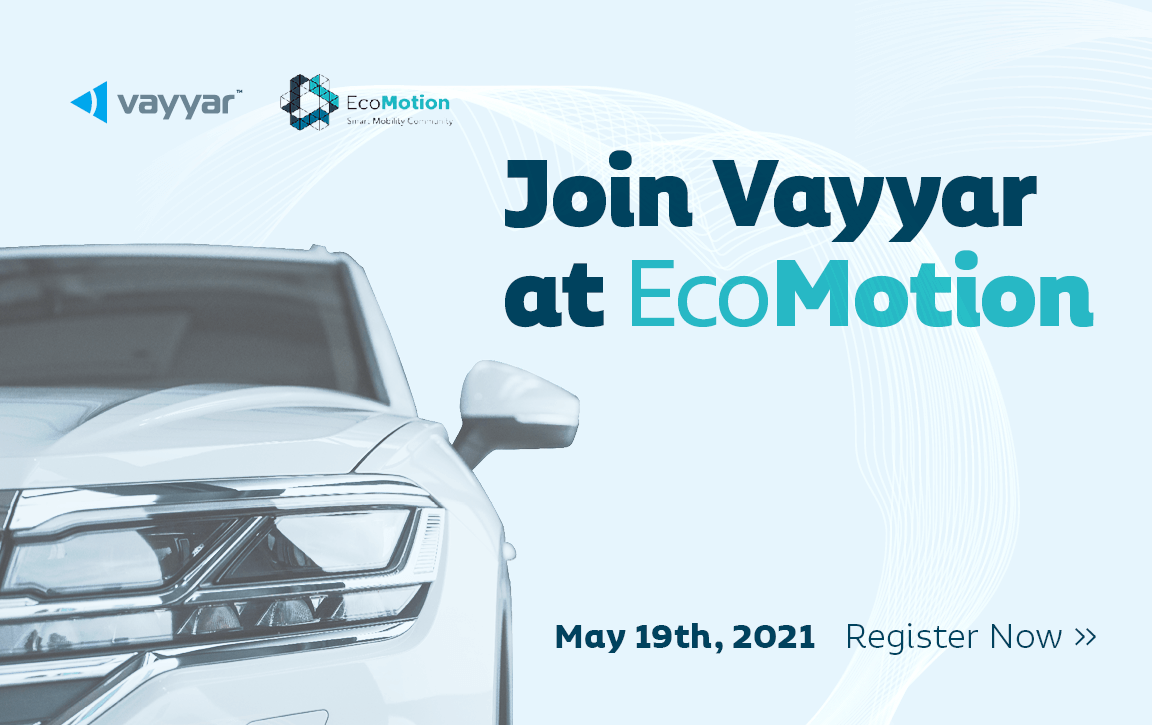 Time & Location
May 18-20th, 2021
About the Event
EcoMotion Week brings together the world's leading companies pioneering in the Smart Mobility field. With hundreds of Startups, Investors, Industry Leaders, Policy Makers and more attending virtually & exhibiting live in the platform.
The event will use the virtual space to bring humans together and facilitate many different opportunities for knowledge sharing, networking and countless interactions on the frontier of innovative technologies in smart mobility.